May. 22nd, 2017
The 2017 Billboard Music Awards: The Year of Excess
The 2017 Billboard Music Awards was hours of excess—an extravagant awards show filled with extra at every turn.
The outfits, the set pieces, Drake shutting down one of the most touristy Vegas sites for a performance, everything was as much as it could possibly be. Fitting that this was the year Cher received the Icon Award. Visually it was a feast and for music fans it was a veritable buffet of every genre.
Below are the highlights of music's Oscars/prom/concert series all rolled into one.
Thank you to Billboard for their unbelievable hospitality to my entire team. To my fans: love you guys so much! 😘😘😘♥️♥️♥️ pic.twitter.com/UIO5tkBvUB

— NICKI MINAJ (@NICKIMINAJ) May 22, 2017
Nicki Minaj's opening performance was simultaneously over-the-top and underwhelming (though it's receiving rave reviews on sites like E! and Essence). The performance had lots of colorful moving parts—except for Minaj herself who stood or sat and sometimes rapped. The nine-minute mashup felt rushed and Minaj was seen at one point running off stage for a presumable wardrobe change as Jason Derulo stepped in—to sing AND dance.
The opening act started out so fun, running through all of the songs that made us fall in love with the "Queen of Rap." But as the music moved toward the present, things went downhill. A camera spotted Drake looking around as Nicki's vocals didn't track. It sounded as if she sang under the studio track of a new song.
"I want to say, Vanessa Hudgens, you look incredible tonight," he added.
Nicki and Drake's relationship continued to be confusing. The two cozied up in the YM section but Drake couldn't miss his chance to be a ladies' man. Drake complimented show host Vanessa Hudgens, saying it was a time to "share the love."
"I want to say, Vanessa Hudgens, you look incredible tonight," he added.
Luckily, cameras caught Nicki's immediate response.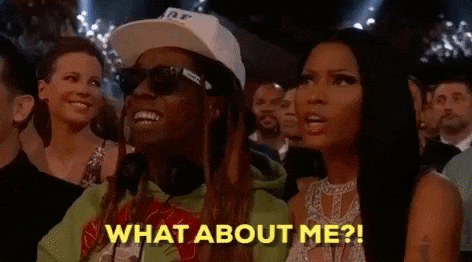 But Drake didn't leave his label mate out. He called Nicki the "love of his life" and said, "I want to say, Nicki Minaj, I'm so glad we found our way back because I love you and I could never, ever see it any other way."
Camila Cabello, ex-Fifth Harmony member, performed for the first time solo. She belted out "I Have Questions" and "Crying in the Club" in what was a high point in performances for the night.
Lorde sang "Green Light"—a single sure to have a thousand covers of it on YouTube come the weekend.
What's that? Facts. @Drake just killed it at the #BBMAs! #DrakexBBMAs pic.twitter.com/LIWstzyFfQ

— Billboard Music Awards (@BBMAs) May 22, 2017
Outside the Vegas venue, Drake performed "Gyalchester" with a hype man in tow. While not one of his more pop-friendly tunes, the performance was surrounded by one of the world's most expensive fountain displays and accompanied by a fireworks show.
Fire… fountains.. @drake… going to be hard to top that performance. #DRAKExBBMAs pic.twitter.com/r1dIHhI0A5

— Billboard Music Awards (@BBMAs) May 22, 2017
Miley's comeback as a California-styled country girl was perfectly alright. "Malibu" was extra twangy in the guitar department and Miley complemented the sound with her own vocal twang and runs. I can't say it wow-ed but the performance did cement her break from her previous album.
So happy to see your genuine, true smile @MileyCyrus. #MALIBU pic.twitter.com/V7AmrxUKLD

— iHeartRadio (@iHeartRadio) May 22, 2017
Imagine Dragons frontman Dan Reynolds gave a surprisingly quick acknowledgment of the passing of Audioslave/Sound Garden's Chris Cornell. Many—including myself—were expecting a cover of one of the icon's stars.
"I worked with Phil Specter. I worked for a year for $25."
.@cher had everyone singing along at the #BBMAs, like a true ICON ⭐️ https://t.co/jIUUs1aUkZ #IconCher pic.twitter.com/iJKcXtSJK4

— Billboard Music Awards (@BBMAs) May 22, 2017
Before accepting the Icon Award presented by Gwen Stefani, Cher performed "Believe" and "If I Could Turn Back Time" in excellent Cher form. She even shared some knowledge with the money-hungry youngsters of today by saying, "I worked with Phil Specter. I worked for a year for $25."
Beyonce led the ladies in awards with 5: Top R&B Tour, Top R&B Artist, Top Touring Artist, Top R&B Album, and Top Female Artist.
He got it from his papa 💜 @Drake #DrakexBBMAs #BBMAs pic.twitter.com/4kUExwTDzb

— Billboard Music Awards (@BBMAs) May 22, 2017
Drake won the whole night, top award and number of awards both. The "Passionfruit" rapper garnered 13 awards, beating Adele's record of 12 awards in a single year.
Upon winning the Top Artist award, presented by Prince Michael Jackson, Drake brought the whole YM crew onstage, shouted out Adele in a British accent/More Life callback of sorts and said, "I just want to say hold tight, Adele, because when your new ting [sic] drops you will crawl your way back to get the record back." Then they all shared a shot from unmarked bottles of brown liquid.
Last name: Ever.
First name: Greatest.
Someone get @Drake a wheelbarrow for his 13 #BBMAs! #DRAKExBBMAs pic.twitter.com/gxOvt3QukW

— Billboard Music Awards (@BBMAs) May 22, 2017